Over Easter weekend, Florianne and I planned to go on a three day bicycle tour. It was going to be Florianne's first tour on her new bike, having put ~250 km on it since its arrival in early February. Understandably, she was a bit apprehensive about the trip but proper planning and a bit of comforting helped to ease some of her worries. As for me: I was feeling delighted about sharing my hobby. Secretly I was hoping that the trip would be a success, so that the experience could be repeated on future (longer) trips ;).
The plan
We looked for a region that was fairly unfamiliar to us, within Belgium (due to COVID) and accessible for bicycle tourers. We quickly settled on Limburg with its extensive network of quiet cycle routes and many options for accommodation. Limburg's undulating roads make for steady rises and falls, which are ideal for a leisurely pace and which provide some variation to the mostly flat areas in our home province. An alternative was 'de kempen' in Antwerp, but Limburg has more diversity to offer in my opinion.
As for the route, we found a six day itinerary via visitlimburg.be (NL: zesdaagse fietstocht) which offered plenty of things to see with manageable daily distances. Our first weekend covered days one to three and our second weekend (planned somewhere in May) will cover days four to six.
Haspengauw: from Hasselt to Riemst
Waking up early on Saturday, we load the bikes and panniers onto the car and set off for the abby of Herkenrode. We start pedaling at 9:40. The Albert canal guides us, as we cycle into Hasselt. We'd encounter the canal a few more times on our trip, as it carries water from Liege to Antwerp via Genk and Hasselt. In the city, we stop at a bakery and stock up with fresh bread for the next three days. The route avoids the center of the city and we're left wondering what the center looks like as we cycle through the suburbs of Hasselt.
Before long we leave the suburbs and are surrounded by pastures and farmland. I think to myself that it must be lovely to live so close to green fields. A steady tailwind pushes us towards Haspengauw, with its large orchards and stroop made from its concentrated fruits. It's a bit early in the season and most fruit trees are still awakening from winter, but the occasional 'early bloomer' treats us to lovely white colored blossoms.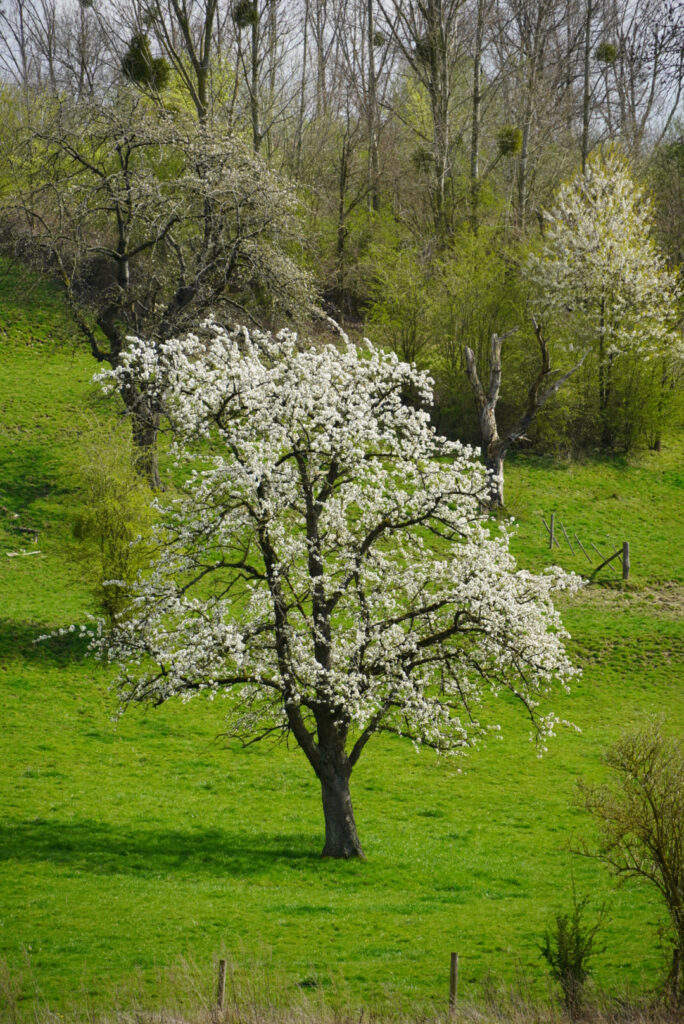 The route takes a large detour West, where we pass through the town of Hoepertingen. Florianne remembers having gone a hike here in 2019. A tad later the route turns East again and we stop for lunch at a peaceful spot with picknick benches.
After lunch we continue our way along an old Roman road that runs from Tienen to Tongeren. We stop at two popular sights: Hell's heaven and the see-through church near Borgloon. We haven't seen many other tourists so far, but these places are packed so we don't linger too long. After the church, we approach Tongeren from the West and enter it from the South. I remember cycling here before in 2018 on my way to Maastricht. We stop and share a coke at the same gas station as three years ago. Today's destination isn't abroad however, as we've arranged a place to pitch our tent via welcometomygarden in Riemst.
Twenty kilometers later we are welcomed by our hosts: a lovely couple who are well versed in hosting slow travelers through WTMG. They share much more than just their garden though: there is a bath house with a toilet, shower and kitchenette. We learn that we're the first to camp in their garden this year, with corona and all. Last year they hosted over fifty groups though.
We pitch our tent underneath an apple tree, which is still in winter hibernation. Working in tandem, one of us washes up while the other prepares dinner: rice with chili. The kitchen is well equipped and we have dinner on the terrace outside. After dinner, the cold Northern wind has died down a bit and I hope we'll get a good night of sleep. We reflect on our day before going to bed. In total, we rode 79 km with 500 meters of climbing today. It was Florianne's first long day on the bike with fully loaded panniers. Fortunately, she did well and isn't feel too many aches after six hours in the saddle. She'd been having groin pains previously after long rides, but tonight the pain is manageable. We get into our sleeping bags, feeling content about our day and looking forward to the Voerstreek tomorrow.