From Santiago de Compostela to Caminha, Portugal
After spending two nights in Santiago de Compostela, I continued south through Galicia. I had made a route that follows paved roads while avoiding busy main roads. As I passed through many smaller villages in Galicia, the route often had me climbing away from the valley floor and following winding roads on the hillsides. Just before descending into Redondela, I could see the water of the Ensenada de San Simon in the distance. The bridge told me I still had to wait for my first glimpse of the Atlantic ocean though. I spent that night in an albergue in Redondela. This would be the last albergue on this trip.
The destination of my second day was A Guarda, a coastal town right next to the place where the river that separates northern Portugal from Galicia ends in the ocean. In A Guarda I intended to cross the border with Portugal via the ferry to Caminha on the next morning. I checked into an inexpensive hotel (hooray for low season) and took a quick dip in the atlantic, the water was cold but the sun afternoon sun was still very pleasant. This was the first time I'd seen the atlantic in this trip, which was another majoy milestone. It would remain my companion de route for the next two weeks or so (providing many stunning sunsets). Afterwards I cycled to the top of the small hill in A Guarda to watch the sun set in the ocean. This was the first time during this trip where I cycled without luggage uphill and it was a huge difference. The climb was still a hard effort but I was flying up the hill! The view from the top was well worth it though, with a birdeye's view on the A Guarda village and its bay and a stunning sunset.
The next morning I made my way along the coast to the ferry port. Unfortunately due to it being low season, I missed the only boat in the morning at 10:00. As the next ferry wouldn't leave until 15:30, I decided to head upstream instead and search for a bridge crossing into Portugal. I'm happy that I did though, because cycling along the misty Mino river proved to be both eerie and and beautiful. After two hours of cycling or so I reached the bridge at Vila Nova de Cerveira, where I was promptly greeted by a lovely red bicycle lane. It would be two more weeks before I returned to Spain.
Portugal: Caminha to Porto (EuroVelo1)
In Cerveira I followed the bicycle lane on the other bank of the Mino river all the way to Caminha, which is the official ending point of the EuroVelo1 'Atlantic Route'. Alternatively, it is the starting point if you cycle it in reverse, like I am doing. Wanting to cover some more distance today I continue south. The strong tail wind and flat terrain along the coast sees me flying south. This would be a welcomed and returning occurrence along the EV1. During lunch two cyclists pass me heading south. A little later I cross them while they are having their lunch. I stop for a chat with the German couple and they are also following the EV1 south.
Later that day, dusk is falling as I look for a place to sleep south of Viana do Castelo. The german couple passes me and we decide to go to the camp site in Fão. Unfortunately the camp site closed last week for winter. Luckily a friendly local points us to a youth hostal in town and we end up spending the night there at a very affordable rate of 7 euros for the night. In the hostal I meet Sabine, a Polish girl whose been working in Lisbon and whose following the Caminho Portugese north to Santiago. She's an active couchsurfer and invites me to spend a night at her boyfriend's house in Setubal. I also meet Steve, a pro-brexit Englishman and fan of Sabine Appelmans which led to interesting conversations. The gist of his pro-brexit argument is more control over their borders in order to protect their labour market. To the best of my knowledge the UK is not part of the Schengen Area, but Steve argues that this doesn't stop low cost labourers mostly from Eastern Europe flooding the UK market. It was interesting to hear another opinion on the matter than what I hear and read in my 'bubble'. I still think the UK is making a historical mistake with brexit though, with a referendum campaign that was devious in its false statements and promises. The referendum result also showed that the UK is not as united as one might think, with clear differences between age groups and regions. Clearly, the country has its issues but I doubt whether leaving the EU is an effective solution to these problems.
The next day I head out with the goal of reaching Porto. Near Labruge I have to make a small detour, as the EV1 crosses a beach and takes some steps which is difficult with my touring bicycle. Often times the GPX files for the EV1 route follow wooden boardwalks where it is forbidden to cycle. Luckily finding a detour is often possible without adding too much extra distance. Before following the Douro river into Porto (which used to transport the port wine from the wineries to the cellars in Porto, where the wine ages) I pass the long beaches just before the city, where there are still people surfing. The center of Porto is surprisingly hilly and it is a bit of a climb to arrive at the Spot hostel where I intend to spend two nights.
I'd read about the high quality hostels in Portugal and indeed the Spot hostel is housed in a big, old house with a modern interior. It has a fully equipped kitchen (with two ovens!), a garden, large common area and the four person rooms are large with two bunk beds. At 17 euro per night, it's well within my budget. I decide to make use of the kitchen and buy an oven pizza for dinner. On my rest day in Porto I join a walking tour, enjoy port wine and its history at Taylor's port cellars and have drinks with Jim, a Canadian traveling through Europe with an interest in history and politics. I also meet two Americans who are cycling from Porto to Lisbon on rented mountain bikes. We exchange some thoughts on cycling and I give them some tips on route planning (strava heatmaps combined with maps me). For me, the social aspect is definitely one of the benefits of staying in hostel while traveling solo.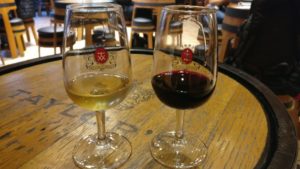 Portugal: Porto to Lisbon (EuroVelo1)
Leaving Porto I cross the lower section of the Ponte Dom Luis I. The view on the river valley from the upper section of this bridge was definitely one of the highlights for me in Porto. This stretch of the EV1 closely follows the coast line South. The goal for today is taking the ferry boat to Aveiro. First I cycle through a large, green pine forest near the Ovar army base. I enjoy lunch at a quiet picknick area. After passing Furadouro, I am cycling on a narrow but long 'spike of land' towards the port of Sao Jacinto. On the ferry I meet a French couple from Vaison la Romaine who are cycling around Europe. I later learn that after leaving the port of Aveiro there is an interesting alternative to the EV1 by following the bridge to Costan Nova. Unfamiliar with this alternative, we follow the EV1 south to the town of Mira instead, where my companions know there is a hostel 'Granny's house'. We arrive after dark and the hostel is deserted. Soon though the uncle of the owner shows up and with a combination of French and some English gets us settled. It turns out many elderly in Portugal are fluent in French. I've found that in touristy areas the English of Portuguese is outstanding and the English of the young Portuguese that I've met has always been very good. This is very different than Spain and France. The two French and I share dinner and a bottle of port, while exchanging (cycling) stories. I've noticed that almost all of the touring cyclists that I've met smoke tobacco and sometimes more. Also, among Portuguese youth smoking is very common as well.
After Mira, I cycle through an immense area of burned down forests. As this region in Portugal is very dry, it has been plagued by forest fires during the summer. The smell of ash is still very pertinent as I pass tens of kilometers of charred trees. It is a spooky sight. On some places I notice that nature is slowly recovering though, as I pass chirping birds. After Figuaire Da Foz, the EV1 briefly leaves the Atlantic coast and heads in land. I pass by rice and wheat fields and small Portuguese towns that see little tourism (unlike the coastal towns). Occasionally there is a short climb. After 50ks or so I am back on the 'Atlantic road' and in the burned forests. This road has cycling lanes that are covered in pine needles this time of year. It's already dark when I arrive at the camp site in Pedrogao, having covered 110kms today. I cook dinner on my camping stove (the trusty couscous/chick peas combo) and fall asleep to the sound of the roaring ocean.
The next day, it is back to the burned forests. After 30ks or so, Peter passes me and we are reunited once again. It turns out he spent an extra night in Santiago to recover from a cold. Afterwards he took a more inland route, wanting to visit the hot springs in the Peneda-Geres national park. We cycle together towards Nazarre, a beach town famous for its 30 meter high surfing waves. Unfortunately, the ocean is calm today. We lunch in downtown Nazarre with an ocean view. It's weekend and many Portuguese families are enjoying a walk on the promenade. We discuss our plans for the next weeks, Peter wants to get as quickly as possible to Sagres and isn't interested in Lisbon. Afterwards he's relaxing a bit in the Algarve before continuing on to Morocco. Me I prefer to take it easy and follow the EV1 to Peniche and Lisbon, Marocco sounds like a good idea though. Strangely we loose track of each other in Sao Martinho do Porto in an elevator incident. This means that sadly we didn't get to say farewell. I spent the night at the Orbitur camping in Foz do Arelho. It's quiet, inexpensive and has a steaming hot shower, my preference after a day in the saddle :).
Leaving Arelho, I cycle along the banks of the Lagoa de Orbidos. This is a big lake/nature reserve where birds migrating South come to rest. I spot some flamingos and other birds in the shallow waters. Just before Peniche, I cycle along a road with sand and water on both sides to the rocky outcrop of Baleal. The water is filled with surfers and you get a nice view on the ocean from the outcrop. In Peniche I meet a German couple of cyclists during lunch. They're flying home in two weeks and have been exploring Portugal by bicycle. While the northern section of Peniche isn't very interesting (lots of traffic, high buildings), the Western and Southern part are much nicer to cycle. After Peniche it's another 30k with the occasional climb before I reach the camp site in Santa Cruz. There is a cold wind blowing tonight (and Italy is playing Sweden in soccer), so I head over to the cafeteria for some TV and a warm meal. The vegi burger isn't very special, but including a beer and some chips it's only five euros so I guess I can't complain.
The next day I occasionally have to back track as the EV1 follows sandy roads or goes over the beach which is too difficult to cycle with touring bike. I pass some scenic coastal towns though: Sao Lourenco, Enceira and Azenhas do Mar. Just before Bolembre I descend towards the coast line before I have to turn back because the road is closed of for road works. Extra elevation, woohoo! In Praia das Marcas, I meet a Portuguese couple on bicycle and we look for a place to pitch our tents in town. The two camp sites are closed, but there is a biological farm that has a camp site. It turns out the girl has Belgian blood, as her mother is living near Bruxelles. Unfortunately I can't remember their names. We meet a Canadian/British couple that has been in Portugal for three years now, mostly Woofing. Woofing is where you volunteer on farms. In exchange you are typically offered free accommodation. This organic farm has a cozy little cottage with a wood fire stove where we shelter from the cold (it was a rare old night in Portugal), drink some beers and exchange stories before going to bed.
The next morning, the tent is very wet from the morning dew and lack of wind. This camp site isn't the best place to pitch a tent. Worse, the girl has been sick all night; most likely because she ate something wrong. She stays in bed, while her boyfriend and I head into town looking for a pharmacy. It doesn't open before 9h, so we decide to have have breakfast first. After returning to the farm, I slowly pack my stuff while waiting for the tent to dry. It's around noon before it's adequately dry and I head off. I'm only 60km from Lisbon and I'm hoping for a short ride. First I pass via Cabo da Roca, which is the Western most point of the Iberean peninsula. I'm surprised how crowded it is here, I'm guessing that this is a popular day trip destination from Lisbon. After some climbing the terrain becomes flat as I leave the Sintra-Cascais natural park and head East towards Lisbon. There is a gap in the EV1 route here, just where it is very busy with traffic. It takes some navigating and asking for directions before I find the bike path into Lisbon. If you were to follow my GPX file, I'd suggest you look for an alternative between Praia de Paco de Arcos and Caxais. I arrive along the banks of the Tejo river into the center of Lisbon. Here I spend two nights at the Lisbon Lounge Hostel at 16 euros per night. Again, the hostel was top notch.
In Lisbon, I go on a free walking tour. Free as in you decide how much you give after the tour. We are guided by a knowledgeable guide named Hugo (if I remember correctly) along the many sights, monuments, history and hills in Lisbon. I'm told the city is reminiscent of San Francisco with its hills, trams and big, red bridge. Fado is a music style local to Lisbon, where they sing about broken hearts and unanswered love. You can find shows in most bars in the center. I head out for a proper pizza dinner at an Italian place instead, where I try vinto verde or green wine. Green wine is a very young wine that is very slightly carbonated and has a green hue. I quickly decide I prefer red wine instead. I meet a Belgian who is also from Gent and is traveling to South America. It turns out he also studied Engineering (chemistry though) and we have some common friends back home. Small world! It's been a long day and I decide to go to bed early. Between Porto and Lisbon, I prefer Porto though. Porto is smaller than Lisbon, which makes it easier to wrap my head around.
Portugal: Lisbon to Sagres (EuroVelo1)
I cross the Tejo river by ferry boat to Almada. While the road leaving the port from Almada has bicycle lanes, the EV1 quickly follows the EN10 national road which is very busy with traffic. I would suggest finding an alternative! After 25km or so, the EV1 turns south onto much quieter roads. Cycling through the national park of Arrabida just before Setubal is the opposite of the busy road this morning: the sun is shining, little traffic, all in all perfect cycling conditions! In Setubal I couldn't manage to arrange the CS host, so instead I immediately take the ferry to Soltroia. The sun sets while I am on the ferry. As there isn't much on this side of the water I stealth camp in the dunes along the road somewhere. Again I can hear the ocean from my tent.
The next morning I cycle to the small town of Comporta, where I find breakfast. This section of the EV1 lacks a lot of the touristic development that was common in the North which makes it a joy to cycle through. The climate is dry here, so there's lots of barren landscape. A lot of protected areas as well, as the sides of the roads are fenced of for most of the day. Melides and Sines are some of the bigger towns I pass during the day. In the bay of Sines I stop for lunch on a bench overwatching the water. Near the end of the day, the EV1 follows some unrideable sandy double track south of Porto Covo. I end pushing my bike for an hour through loose sand. As I'm getting nowhere, I decide to get onto paved road as quickly as possible and arrive around dusk in Milfontes which – surprisingly – has two camp sites. I stay at the city one. It's clean, quiet (low season, in summer this huge camp site must be packed) and has a good shower.
From Milfontes it's another 130k to Sagres. During the next day I meet a Frenchman, Philippe, and we decide to meet up at the camp site in Aljezur which is halfway to Sagres. This region of Portugal is lovely to ride as it's mostly a protected nature reserve. I also meet a couple from Argentina who are on the end of a year long trip (not all of it by mountain bike). It turns out he finished his PhD December last year and decided to travel for a year, now doesn't that sound familiar! In Aljezur, Phillipe and I spend the night cooking and exchanging stories. He's a fair deal older than me, but has only recently picked up bicycle touring. Previously, he's cycled an epic trip from the South of Argentina to Latin America. Now he's also on his way South and he will end his trip in Morocco.
The next day, Philippe leaves a good deal earlier than me. As it's only a short day today to Sagres, I decided to sleep in a bit :). Today's trip has two highlights. The first are the coastal cliffs near Carrapateira, which can be explored via the Pontal da Carrapateira circuit (gravel road, easy to cycle). It features stunning view points on the ocean. The second is Cape St. Vincent (Cabo de São Vicente) which lies at the south-westernmost tip of Europe. Somewhat disappointingly, they built a lighthouse on the point and it is closed when I arrive. Before people knew about Africa, the cape was referred to as the end of the world. Indeed I can only see water to the South and West. But continue South long enough and you'll reach Casablanca, Morocco. On my way to the Cape I am very surprised to meet Peter for the third time on this trip! He's been in the Algarve, relaxing and enjoying the beaches. This time we get to say a proper goodbye though. On the camp site in Sagres, I meet up with Philippe for the second time. He'll stay two nights in Sagres. I've decided to leave the EV1 behind and to try and follow the Via Algarviana. This route lies more North than the EV1, preferring the mountains over the coast.
Portugal: Sagres to Olhao via Monchique (via Algarviana)
The next morning Phillipe and I say our goodbyes. The Via Algarviana backtracks North to Bispo where I passed yesterday, before heading East. The first 50ks follow primarily flat gravel roads, along farm fields. The last 25k are more uphill as the via slowly makes it way to Monchique. Some sections are very steep and I end up pushing the bicycle. Exhausted but content I pitch my tent somewhere outside of Marmelete (there's no camp sites here). There's a sky full of stars tonight, as there are no clouds and there is no moon either. In the early morning I hear a large animal (a boar or a deer perhaps) approaching the tent. A loud couch alerts it to my presence and I hear it running of into the woods.
The second day of the via Algarviana continues the climb to the peak of Fóia, near Monchique. It's hard work climbing on the gravel roads with the occasional bike pushing. Unfortunately, it's cloudy today so I can't enjoy the view at the top of the climb. After a steep descent into Monchique, I stock up on food at the Intermarché and decide to stick to paved roads for the rest of the day. Even on paved roads it's already hard enough with all the elevation gained during the day. In Messines I find ethanol-based fuel for my cooking stove (at the 'druggist'). I pitch my tent a little out of town next to an abandoned house.
The third and last day of my trip in the North of the Algarve, I decide to head South East towards the coast where I intend to rejoin the EV1 and cross into Spain. There's a long but steady climb to Barranco do Velho, before I descend to sea level in Olhao. Along the way I stop in Sao Bras de Alportel for lunch. In Olhao, there is a very large camping which is full of Scandinavians and British that are spending the winter South. Each camper is trying to outdo its neighbor. This culminates in a huge Swedish bus that is converted to a camper and that tows a sportscar on a flatbed behind it.  At five euros a night it's very affordable though!
Portugal: Olhao to Vila Real de Santo António (EuroVelo1)
My last day in Portugal is a short one, cycling towards the border town of Santo António along the coastal ecovia litoral. This ecovia actually runs all the way from Sagres to the border with Spain. Having followed the via algarviana, I missed most of the ecovia up until now. The path follows the coast, but is quite a bit inland as there are long dunes that separate the coast from the towns. It predominantly follows quiet, traffic free dirt paths. Just before Santo António, there is a camp site after the beach resort city Monte Gordo. I setup my tent and head into town for a beer. I fall asleep to the sound of the ocean for the last time in Portugal. The next morning I set off early to catch the ferry towards Ayamonte. On the way I meet a Belgian on bicycle and we talk about routes towards Sevilla. He's toured all around this area and is very knowledgeable. On the ferry itself I meet a Dutch coupled spending the winter here and they are kind enough to snap a picture of me and my bicycle.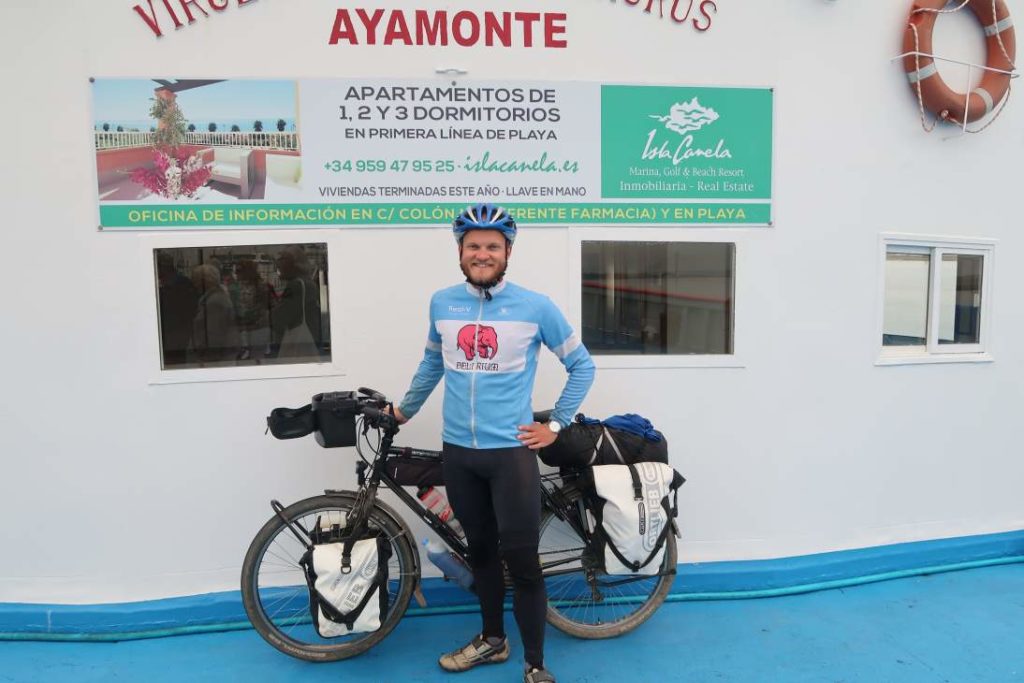 My next posts will be about my brief passage through Andalusia. And after that Morocco!