While I am waiting for my Belgian passport to arrive in Torremolinos, so I can continue on to Morocco, I thought I'd share some reflections from the last seven weeks of life on and off the bicycle. First some numbers: I covered just over 4 000kms in 50 days (45 days on the bicycle) and accumulated an elevation again of +- 41 000 meters. Along the way, I took rest days in Santiago de Compostela, Porto, Lisbon, Sevilla and now Torremolinos. I've had a small ache to my right knee the last few days, which has led me to switch between the clipless and normal pedals on my dual pedals during the day. I've fallen over twice, both occasions on the Camino Frances when I made a mistake navigating the technical  track and was unable to unclip on time (due to mistake being a surprise). I now ride technical sections unclipped for this reason :). Surprisingly I've had hardly any rain during my trip, having experienced intermittent rain on only two occasions: once in Dax and once in Galicia. The bicycle has held up very well without any major concerns. I've had four flats so far: two times from sharp objects puncturing the inner tube, one time because the valve delaminated from the inner tube (never seen this happen before!) and one time due to a 'snake bite' puncture. I replaced my worn-out chain just before the Pyrenees as it had around 4500kms on it then.
Most people are surprised when they see the slick tyres on my bicycle (I ride Schwalbe 26″ 50mm Kojaks). I must say I have also been surprised by the performance of this slick tyre on dirt roads. Traction is rarely a problem (I didn't encounter wet conditions though) and when the road is too steep to cycle with loose sand/pebbles/rocks even a tyre with profile wouldn't be much help. Occasionally I do wish for a lighter setup though, as off road inclines over 14-15% are difficult to climb with all this weight. On these extreme gradients, getting out of the saddle is problematic due to the rear wheel slipping (here a tyre with profile might sometimes perform better). The big side panniers also limit me in riding single track and they get in the way when I have to push/pull the bicycle over obstacles or up steep inclines. Carrying the bicycle on my shoulder is impossible without removing all the luggage. Clearly, a bikepacking setup and a true mountainbike would be preferable for these types of terrains.
Cycling uphill with a packed touring bike is hard, cycling through hilly landscapes with a packed touring bike for consecutive days is harder (accumulating fatigue), pushing a packed touring bike up (off road) inclines too steep to cycle is even harder. The latter was common on some short sections of the Camino Frances and along parts of the section of the Via Algarviana that I've followed. I enjoy riding dirt roads as an alternative to main roads, as there is less traffic and the scenery is usually nicer.  As such I preferred the dirt roads of the Camino Frances in Spain over the cycling route of Clemens Sweerman for this reason. The occasional pushing of the bicycle is just part of the experience.
Santiago de Compostela
It took me 24 days of cycling to reach Santiago de Compostela from Gent. I cycled everyday, with shorter days in Dax, Burgos and Leon so I could rest up a bit and visit the city. The old centre of Chartres, France near the Cathedral was particularly memorable giving the impression that the time has stood still here in the last 100 years. In Tours I experienced an intense moment of serenity in the cathedral. Some might describe this as feeling the presence of God, for me it was more an experience of being acutely aware of my presence at that time and place. Coupled to this was the realization of how fortunate I am to be able to undertake such an adventure by bicycle. For the majority of people on this planet, it is not possible to travel (for many different reasons).
In Poitiers, France I stayed with Camille and her housemates (through the warmshowers hospitality website). Thank you Camille for your hospitality and kindness! It was interesting to discuss some of the recent developments in European politics and French culture. North of Dax, France I was surprised to find a huge pine forest in the department of Landes. It took me a whole day of cycling to traverse these forests. France continues to surprise me in its diversity. At Saint-Jean-Pied-de-Port I picked up my pilgrimage passport, which meant I could stay at inexpensive albergues along the way to Santiago. They typically charge around five euros for a bed and are like huge hostels specifically for pilgrims. They're a great opportunity for meeting fellow pilgrims and most of them have a kitchen where you can cook a healthy meal.  I ended up not touching my tent all the way through the north of Spain!
Until Burgos, Spain I followed the main roads of the Clemens route, after Burgos I switched to the dirt roads of the Camino Frances. Burgos is most famous for its UNESCO world heritage Gothic cathedral, where you can find a number of art works by the hands of Flemish painters and sculptors. The Camino between Burgos and Leon, Spain is primarily flat and a bit boring as it is mostly a gravel road that runs in parallel to a main road. Leon also boasts a large cathedral, though it can't quite match the splendor of the cathedral of Burgos with its many artworks contained within. The painted glass windows and the mix of different art styles still make this cathedral worth visiting though.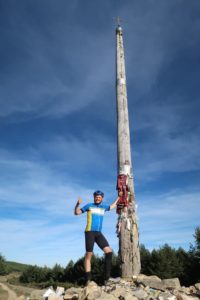 After Leon, the Camino becomes more interesting as it leaves the main roads and tracks its way through fields.  Before long the landscape becomes much hillier and greener as I make my way to Galicia. Just before Ponteferadda lies the highest point of the Camino at around 1 500 meters. The long climb is rewarded with an hour long descent where I loose over 1000 meters of elevation in an hour while blasting Danger Zone of Top Gun through my earphones and vocal chords. A wonderful feeling of great relief :)! In the albergue in Pontederadda a number of fellow cyclists are spending the night: two Spaniards from Madrid mountainbikes whom I've met the day before, Peter from Leipzig whom I've met the same day and a Korean cyclist who is traveling around Europe on a folding bicycle. We have dinner together and will pass each other and occasionally ride together the following days. The morning after Pontederadda it was very cold and I meet each of the fellow cyclists complaining about the cold along the way. I should have brought warmer gloves, because my hands are freezing from the piercingly cold wind that blows through the small canyon in which we are cycling. After some discussion with locals in a bar, I elect to leave the dirt roads behind here and go back to asphalt as the day's climb would be impossible on a bicycle. This time I spend with Peter on the road, as we make our way through the rolling hills in Galicia. It is now the beginning of November and we are only three days away from Santiago.
After Melide, I choose to again follow the dirt roads until Santiago. The landscape of the last two stages before Santiago is much greener than before, which is promptly explained by the rain that greets me! Luckily nothing too bad, just some showers that I wait out under a large tree. The last hundred kilometers before Santiago there is a noticeable increase in the number of pilgrims that I pass on the trail. Whether it is due to the lush, green forests with eucalyptus trees on this stretch of the Camino or the fact that the pilgrim walking certificate only expects you to complete the last 100 kilometers on foot I'll leave in the middle. I cycle into Santiago, where I meet Peter in front of the cathedral. We crack a beer to celebrate our arrival and watch the slow trickle of ecstatic pilgrims that arrive on the square to the end of their pilgrimage.
While the feeling of arriving in Santiago was great (a big milestone on this strip), I found the city itself isn't very interesting. This realization leads most hikers to continue on to Finisterre where they can see the ocean from the cliff walls (and sometimes burn their shoes). I didn't burn anything, electing to continue South into Portugal instead. In part two I'll write more about my experiences there.
If you want to follow my progress: I am most active on my @floriscycles instagram. I occasionally update my position on the Where's Floris page? and I upload my photos to my Flickr album.
Hasta luego!