For my 2017 summer holidays I considered several options for my first solo multi-week trip by bicycle. On the short list were Iceland (scratched due to only two weeks of time), the popular JOGLE route across Great Britain (also scratched due to time constraints) and cycling North to the most bicycle-friendly city of the world (Copenhagen).
As I opted not to fly this time (having flown to the Middle East and the US over the last year, sorry earth :<), I chose to follow a circular route closer to home (I later discovered that I could probably return by train from Copenhagen). Having crossed France two years ago by bicycle (following the famous green way to the Mediterranean and returning by train), I opted for a route North through the Netherlands and Germany. Both countries weren't foreign to me, as I have been in Oldenburg and Berlin in Germany and in Zeeland and Friesland in the Netherlands. Though never by bicycle! Below you can find a trip report. The report of week 2 will be available here.
Travelling solo
One of the goals of this trip was to see whether I'd enjoy a bicycletouring trip by myself. In the past I have extended numerous work trips with solo outings, which had always been fun. The longest time was a two week extension to a Singapore trip in Thailand, of which I have many fond memories. So I have traveled by myself before just not by bicycle.
I soon discovered though that in Belgium, the Netherlands and Germany you are never truly alone. I also experienced that traveling solo meant that I was easily approachable by others. I did find the Dutch more open to stringing up a conversation than Belgians and Germans. It helps that dutch is my mother tongue and that my German is passable. In places with a language barrier, random conversation would be much more difficult. Furthermore, I liked the freedom to choose my own breaks for snacks, sights and lunch and when to call it a day and search for a place to spend the night.
Of course traveling solo also has downsides. While not a problem on this trip, safety can be a concern. Another downside is more expensive accommodation, but this wasn't an issue as I mostly camped (for free or affordable at ~10 euros) or enjoyed the hospitality of lovely (!) hosts. One worry I had prior to this trip is having to leave my bicycle unguarded while spending time of the bike (e.g. grocery shopping and around camp). Even though I brought my strong Abus lock (heavy) I was still worried that someone might run off with my panniers or tent whenever I left my bicycle out of sight. In the end, I didn't encounter any problems but it was always a worry when (speed)shopping or showering.
Another potential downside is loneliness, but I found that my days were so packed with cycling, sleeping, eating that there was little time to feel lonely. I brought three books and didn't read a single page! Staying with cycling and travel-minded warmshowers hosts or families also helped to keep loneliness at bay. Additionally, the new European roaming rules meant that it was very easy to keep in touch with home. Nevertheless, on longer trips through remote areas with a potential language barrier loneliness may become an issue on future trips. I'll probably get an e-reader to reduce some weight though :).
Week 1: Belgium and Netherlands
On the map you can see the different etappes for the six days I spent cycling from Gent (Belgium) to Leer (Germany). A small summary for every day is included below. I go over every etappe in greater detail in the remainder of this post. At the end I included my packing list for this trip.
Summary

Day 1: Gent-Antwerpen, 76km, 4h3m, GPX
Day 2: Antwerpen-Nieuwendijk, 115km, 6h34m, GPX
Day 3: Nieuwendijk-Zeewolde, 133km, 7h32m, GPX
Day 4: Zeewolde-Meppel, 111km, 6h19m, GPX
Day 5: Meppel-Groningen, 97km, 5h44m, GPX
Day 6: Groningen-Leer, 117km, 6h38m, GPX
Day 1: Gent to Antwerpen (July 14th)
Taking the afternoon off from work meant that I should have been able to take an early start. However, a last minute bicycle repair (thank you Stefan for replacing a leaking Magura brake lever!) and having to turn back to pick up my camera tri-pod, meant I only left for Antwerp around 16h. The route along the train tracks via Lokeren and Sint-Niklaas is familiar to me as I had followed the same way to the start of the tour of Flanders on April 1st (mostly in the dark though back then). Only the entrance into Antwerp was a bit different as I took the ferry from Kruibeke to Hoboken to cross de Schelde this time. After cycling on some lovely cycle paths on the outskirts of Antwerp I arrived at the home of Kris, who was so kind to host me for the evening in Antwerp.
After a few beers we headed into Antwerp on bicycle (Kris owns a variety of bicyles and lent me his retro race bike) for a vegan dinner and some more drinks. Coincidentally Kris had cycled across Denmark two years earlier. A trip from which he returned by train, which negates my flying concern raised earlier. In the future however, I would probably combine Denmark with a trip to the Nordkapp. Unfortunately we forgot to take a picture together, so the best I can do are two side by side photos (Kris is still half a sleep, sorry! :p).
Kris was the first host I met via the warmshowers hospitality 'service' and I must say it was a wonderful experience. My (grand)mother were both surprised that people are willing to open their homes to strangers. I've had prior experience with couchsurfing but I must say that Kris was one of the most generous hosts I've met so far. I've also been fortunate enough to never have had a bad experience with CS and WS! Once my living situation allows for it, I hope to give back to the community and host as well.
Day 2: Antwerpen to Nieuwendijk  (July 15th)
After an early start in Antwerp (see pictures above) I left Antwerp via the beautiful het Rivierenhof. Cycling along the Schoten-Turnhout canal, I made my way towards the Netherlands. First I had to cross de Kempen though! I soon learned that the two most common activities in de Kempen are (large!) pig farms and wind mills (especially along the E19 highway). Though I also saw what I assumed to be a commercial lawn growing field and many dairy farms and cattle. While still in Belgium, I hit the first sign post of the route I am going to follow through the Netherlands: de LF9 NAP route! I was eager to leave Belgium behind and enter the Netherlands!
The route from Belgium to the Netherlands followed a scenic bicycle path along the Mark stream. Before entering the Netherlands though I made a quick stop at the border town of Meersel-Dreef to pick up lunch. I noticed loads of Dutch cars parked near the shops in this town. Apparently taxes on tobacco and alcohol are a little lower in Belgium.  After crossing the border I enjoyed lunch under a big tree just over the border.
After lunch I continued to Breda, where the bicycle traffic significantly intensified in volume. Before long I cycled through Breda and continued my way North. Just to the North of Breda I pedaled my bicycle through forests and – to my surprise – dunes! As the NAP route follows the would-be coast line in case all of the dikes and dunes in the Netherlands would disappear, it makes sense to find dunes so far in land here!
The stop for today was a paalkamperen spot not far from De Biesbosch national park, de Griendwerkershut. Paalkamperen is an initiative (both in Belgium and the Netherlands) that lets hikers, backpackers and cyclists enjoy nature and 'wild camp' (bivouac) at locations in forests or nature reserves. A list of locations for Belgium is available on bivakzone.be and for the Netherlands on paalkamperen. Make sure to read and follow the rules though as respect for nature, the camp site and others are vital to keeping this rare initiative feasible! After a short ferry on the Capelse veer across de Bergse Maas river, it wasn't long until the camp site near Nieuwendijk.
I ended spending the night there with eight people in total! Some inside the hut and others in tents outside. Leon, a fellow bicycle tourer, arrived on a velomobiel, which I considered an odd touring vehicle but it does make for an effective mode of transport (when the route is flat). I would say Leon's Dutch is better than my German (he did grew up in Brussels and my German is frankly, abominable), but we conversed mostly in English. We ended up exchanging some thoughts on touring as he had followed a route through Georgia, Armenia and Iran a few years earlier which will likely be part of the itinerary for my big upcoming tour along the silk coast (more on that in a future post). Before going to sleep, most of us played Double 12 Color Dot Dominoes, an American variation on dominoes, and exchanged some casual conversation. Before long it was bed time though!
Day 3: Nieuwendijk to Zeewolde (July 16th)
The next morning it was overcast as it had rained during the night. Having slept in the hut meant I didn't have to break camp, but socializing meant I only got going around 9:40. Oh well, it's holiday after all. Today's route would take me to the charming village of Woudrichem where I could take the ferry across the Boven-Merwede river. Unfortunately the ferry did not operate on Sunday mornings, so a 5km detour took me across on the Merwedebrug instead. In the town of Gorinchem I was confronted with the first 'ophaalbrug' in the Netherlands. These bridges rotate around a horizontal axis in order to let small boats pass and and, as I would soon discover, are used fairly frequently on Sundays when the Dutch go 'boat touring'.
From Gorinchem I followed the Merwedekanaal up to Utrecht. In Utrecht most shops were closed due to it being a Sunday, though the main shopping street was quite busy. I've noticed the same on a recent trip to Rotterdam, where most shops are open on Sundays (in Belgium this would be unimaginable). Looking for a place to lunch, I left the crowds behind and instead found an Albert Heijn in the North of Utrecht where I could find some bread. This was the first time I had to leave my bicycle out of sight in a busy place so I made sure to lock it to a big pole outside of the store. After a quick shopping run (always dangerous when you are hungry) I came out with curry humus, a 'french bread' and some fruit salad. NOMNOMNOM. I also had some marmalade and peanut butter from home.
After lunch I passed through a scenic forestry area north of Utrecht with unpaved bicycle paths, before continuing to the city of Amersfoort. The legs started to get heavy though so I decided to rest and finish my fruit salad in Amersfoort. At this point I had cycled 100km and it was nearing 5PM, but the next camp site I wanted to get to was another 30km away. After continuing for another hour, I stopped for a pizza dinner in the only place that was open in Bunschoten (quite a difference with the Utrecht shops), a donor kebab shop. The pizza combined with the one hour break boosted my energy to continue into the Flevoland province, which is a huge area of land that the Dutch reclaimed from the sea!
Bicycling in Flevoland is a bliss as it is of course very flat (like the rest of the Netherlands) and the infrastructure is well laid out since the area is fairly new (the South was only reclaimed from the sea in '68). Zeewolde is a popular holiday destination for the Dutch as it has many beaches and the big Veluwemeer. Tonight though I'll be heading to the Campanula paalkamperen site which lies deep inside the largest deciduous forest (NL: loofbos) of the Netherlands: the Horsterwold. Upon my (late) arrival I am greeted by three kind Dutchies, who are chopping wood and preparing a fire. I pitch the tent, spend some time socializing with my fellow camp guests (one couple was actually testing some gear for the Wacken open air heavy metal festival) and go to sleep soon after dark after a long day on the bicycle.
Day 4: Zeewolde to Meppel (July 17th)
After a rainy night I packed up camp and emerged from the forests into Zeewolde, a popular holiday destination for the Dutch. After Zeewolde I followed the dikes North where large construction works are ongoing. The detour for bicycles around the construction yards are very clearly indicated though. The Netherlands really is a cycling paradise. Along the coasts of the Veluwemeer I pass a family of five which are all on bicycles and are also touring. They develop a good pace, moving along like a caravan and switching out the lead riders. I do feel a bit sorry for the father who is carrying a huge amount of gear.
After crossing the Veluwemeer I leave Flevoland behind and enter the province of Gelderland at the small fortified town of Elburg. The medieval center reminds me a bit of Bruges and the town looks very touristy. I buy a loaf of bread for lunch and some stroopwafels (my first in NL so far!!) and continue to ride as it is a bit too early for lunch. After an hour or so I find a bench that is bathing in the sun, lay out my tent for it to dry and enjoy lunch. The weather is much more sunny than yesterday. As dessert I try one of the stroopwafels and they are delicious! In hindsight, I should have bought some as soon as I had crossed the Dutch border.
After lunch I leave the Gelderland province and enter the Overijssel province on my way to the city of Zwolle. First though I take the ferry to cross the Ijssel river, which costs 1 euro. Zwolle is a fairy large city and I spend some time hiding from the sun near a fountain as the weather has gotten fairly hot in the afternoon. After the city of Zwolle I take another ferry, the Haersterveer (price 60 euro cents). This ferry is a bit different though as the operator pulls on a cable with two 'handles' thereby ferrying the float across. I'd never seen this type of ferry boat and apparently it is the last of its kind in the Netherlands.
After Zwolle it is another 30 kilometers to today's destination: a camping on a farm North East of the city of Meppel. Following various water ways I make my way to Meppel, where there is a working wind mill (the first so far) and some kids fishing (?) in the canals that flow through the city. I have now entered the Dutch province of Drenthe (many provinces today, eh) and after a short trip I arrive at the 'Mini' camping Oes Stekkie. I am greeted warmly by the hostess who shows me to a lovely place near a pond to pitch my tent. Seeing how the camp site had three different fields, I wouldn't exactly call it a mini-camping though by Dutch standards it does qualify. This makes it a very quiet and silent camping though :). At six euros it is also very affordable. The lavatories are basic but clean. After a shower, washing my clothes and dinner, the clear evening sky shows some spectacular colors. A perfect ending to my fourth day in the saddle.
Day 5: Meppel to Groningen (July 18th)
Today promises to be a shorter ride as I head out to Zhen, who was kind enough to offer hosting me in the city of Groningen. In the woods to the North of Meppel I hear the distant sound of what I assume to be gun fire (first time I have ever heard this in real life). The signs warn that entering these woods is life threatening when the Dutch military is training. Luckily though there is no red flag, but the gun fire keeps growing and louder as I get deeper in the woods. Soon I am cycling next to the Johannes Postkazerne military base, where I can hear the supersonic snaps or cracks bullets leaving the barrel (cool to hear as long as it not directed at you :D).
Leaving behind the military base I ride through what I consider the most beautiful stretch of the Netherlands on this trip: the Drents-Friese Wold national park. Riding through dense, lush forests and over wide, open dunes makes for some impressive scenery and provide a much welcomed change in scenery from the polders and water ways. It appears this is well-known among the Dutch though as I pass many, many cyclists in the park. You're never alone very long in this area.
I do some shopping in Appelscha, where I get some more stroopwafels from the Aldi! They are considerably heavier than the ones I bought at the bakery earlier but unfortunately their taste isn't so great. Nevertheless they are packed with calories so it's a pretty good cycling fuel in terms of caloric density. As I get closer to the student city of Groningen it gets busier with commuting cyclists. In Groningen I find that the stop lights turn green for cyclists from all directions at once, which helps to cross large intersections in safety. I have no problem finding Zhen's place and we decide to cook spaghetti together. After dinner we play the Scythe board game. Its concepts of resources and land tiles reminds me of the Settlers of Catan, but this game is much more complex. The youtube introduction alone takes more than 30 minutes and we have to consult the rule book many times. Nevertheless it was a fun night, though my turtle tactics did not work out well for me. We turn in early as Zhen has to get up early for work and I for Germany the next day!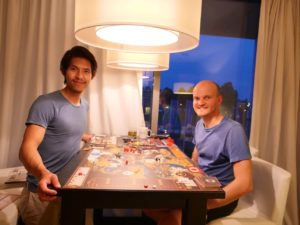 Day 6: Groningen to Leer (July 19th)
After a quick breakfast with Zhing, I left Groningen along the canals. Today I am following the last stretch of the NAP route towards Bad Nieuweschans. This etappe prefers a scenic, longer route over the shortest route, which I don't mind at all. After 60ks I make it to the lunch stop for today: the small city of Winschoten. After a quick stop at the Jumbo supermarket I lunch in a nice little park next to the city stadium. After Winschoten the route makes a Southern detour before heading back North along the German-Dutch border. Just before Bad Nieuweschans I pass through a nature reserve with lots of birds. I briefly contemplate taking a swim as the temperature has risen considerably, but continue to press on as I see storm clouds forming in the distance. In Bad Nieuweschans I pass the last sign post of the NAP route and pass into Germany shortly thereafter.
From here on I move over to routes from radwelt punkt de :). The first stretch isn't very inspiring as I follow a long, busy road in between farm fields. At the Heinitzpolder I say goodbye to the dunes as I head inland towards the city of Leer. The big commercial camping lies on the outskirts of Leer. After finding the camping's receptionist, I quickly pitch my tent as I hear thunder in the distance. On the camping of Leer I experience my worst storm in a tent so far. Luckily the tarptent holds, though I doubt if it would fare well in a heavier storm. The rain isn't a big issue but the winds make the sides of the tent warp and flap at an uncomfortable level. At times I thought the tent would lift off from the ground. In the end all was well though. After dinner and a shower, I listen to the German radio (which doesn't cover the tour de france apparently, also it is difficult to follow) before going to bed.
Packing list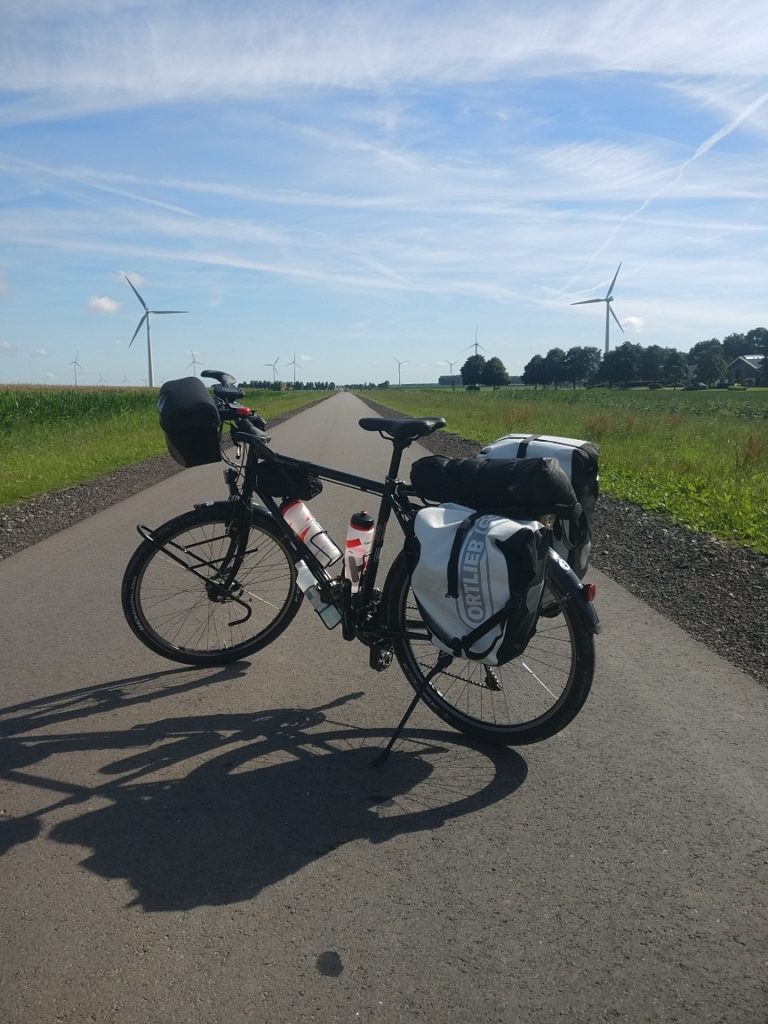 Bicycle:

VSF TX-400 with

Ortlieb Ultimate 6 handlebar bag
Ortlieb back-roller classic rear panniers
a small frame bag

2x one litre Decathlon water bottle
Methanol fuel bottle

Handlebars:

Cateye velo 7 bicycle computer
Garmin edge 705 GPS

Small frame bag:

Abus big bordo lock,
Top Peak multi tool.
patch kit and spare inner tube

Handlebar bag:

Wallet, change and keys
Chapstick
Canon PowerShot G7 X Mark II compact camera
Gorillapod original camera mount
snacks and elektrolyt tablets
Misc: diary, pen, pocket knife, paper tissues.

Left pannier (kitchen, food, first aid, spares, electronics):

Trangia mini stove, lighter (and a spare), DIY wind screen
Plastic mug, spork and spoon with long handle
First aid kit (including multi-use soap)
Toilet paper and sponge.
Second spare inner tube, chain oil, gaffa tape, zip ties.
Foldable washing bowl (Camp-Gear 12L) and washing line
2x platypus 1L water bottle
High vis vest
Electronics accessories: smart phone and power bank charger, 16000mAh power bank (Xiaomi), micro USB cable (GPS), mini USB cable (power bank),  USB-C cable (phone) and USB-C OTG cable (connect GPS to phone).
This leaves more than half of the pannier to be packed with food and rain gear (for easy access/stowage when wet and or raining).

Right pannier (sleeping+clothes):

Thermarest neoair xlite inflatable sleeping pad (incl. patch kit)
Cumulus sleeping quilt
Linnen sleeping bag liner
Inflatable pillow (Decathlon)
MSR packtowl (used as a rag) and sea to summit towel
Petzl tikka xp head torch
Bug net
Sleeping: cotton socks + sleeveless shirt
Off the bicycle clothing: sandals (Quechua Arpenaz 100), zip-off long trousers, running shorts, icebreaker under wear (one pair), t-shirt, fleece sweater.
Spare cycling clothes: socks, bib short + extra short sleeved cycling jersey.
Reading: books
Warmer cycling clothes: long sleeved cycling jersey, arm warmers, leg warmers and buf.
Rain gear: Quechua Forclaz 900 3L waterproof hiking jacket, AGU rain pants, Shimano waterproof over shoes.

Rear rack (top, attached using bungee cords):

TarpTent Stratospire 2 and Fizan compact trekking poles (used as tent poles)
helmet (when not worn)

On person:

Mountainbike shoes (SPD),
Socks, bib shorts, base layer, short sleeved cycling jersey, cycling gloves (short fingers), shades and cap or helmet.
Cycling jersey pockets: sun screen, smart phone (OPO 3) and small FM radio (Sangean DT-250 S) + ear buds.
What would I change to the packing list?
I would swap the spare short sleeved cycling jersey for an additional base layer. I wouldn't take the books and use an e-reader (or my phone) instead. I would leave the over shoes and zip-off trousers at home. I would also swap the sleeveless shirt for something with longer sleeves as I sometimes like to sleep with my arms outside of the quilt. I also didn't use the two platypus bottles and the plastic cup on this trip. Finally, for any serious longer trip I would probably take a different stove that is larger and multi-fuel capable and a tent that is more durable and storm resistant than the tarptent SS.